From the study to sitting room, the kitchen in the distance.
Apartment No2
Spacious apartment No 2
(floor area more than 100 sq.m.)
consists of big sitting room
divan
armchair and armchair-pouffer
table with chairs
TV set 50"
infrastructure
to install an audio system master bedroom
with door
to the bathroom

double bed
bedside tables and cabinets
big wardrobe
dressing-table
occasional table
second bedroom
single bed
beside table
wardrobe
table study
bookcases (see foto above)
cabinets divan
wardrobe
desk
bookcases
can be turned into nursery or one more bedroom
kitchen 15 sq.m. with appliances: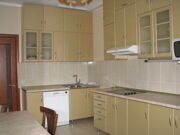 ceramic stove
dish washer
fridge
microwave bathroom
air extractor
anteroom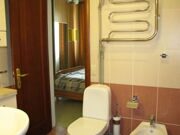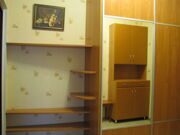 and lavatory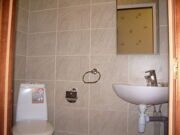 Supplementary with the appartment: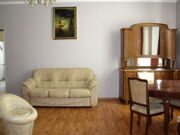 an open terrace 80sq.m., separated with
pergolas and green fence,
there are lawn, lane, summer table ground,
places for flowerbeds on the terrace;
and a storeroom 10sq.m. in the basement.